About the Technical and the Research Fellow
Tsuyoshi Monri, Technical Fellow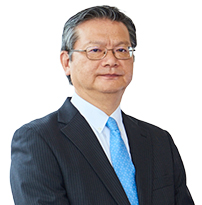 Currently Research Professor of the Graduate School of Business Administration, Hitotsubashi University Business School. 2013: Part–time Lecturer of the Faculty of Economics, The University of Tokyo(concurrent post); 1981: joined the Long–Term Credit Bank of Japan, Limited. 1999: joined The Industrial Bank of Japan, Ltd.2007:General Manager, Risk Management Division, Mizuho Corporate Bank 2010: President & CEO, Mizuho Corporate Bank (USA) 2012: Director, Mizuho–DL Financial Technology, Co., Ltd. (Mizuho–DL FT)
2013: Managing Director, Mizuho–DL FT 2018: Technical Fellow, Mizuho–DL FT
Due to a long business career in US, having abundant experience and knowledge of risk management practices, both domestic and US.
Akihiko Takahashi, Research Fellow
Currently Professor of Economics at the Graduate School of Economics, The University of Tokyo.
1985: joined the Industrial Bank of Japan; 1998: Long Term Capital Management; 1999: Associate Professor at the Graduate School of Mathematical Sciences, The University of Tokyo; 2003: Associate professor, Graduate School of Economics (same university); 2007: Professor of the same university.
Publications include, "New computational techniques for numerical problems in finance based on Malliavin calculus and asymptotic expansion approach" (Toyo Keizai Inc.), "On Validity of the Asymptotic Expansion Approach in Contingent Claim Analysis," Annals of Applied Probability, Vol.13, No.3, 914–952, 2003 (with Naoto Kunitomo), "Selection and Performance Analysis of Asia-Pacific Hedge Funds," The Journal of Alternative Investments, Winter, 2007 (with Takeshi Hakamada and Kyo Yamamoto)